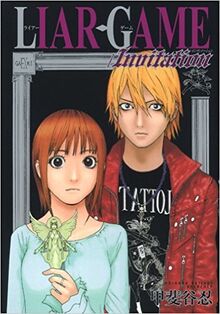 Liar Game Invitation is the databook for the Liar Game manga. It covers the manga up to Volume X (10).
Description
Edit
The cover of the databook is the exact same as the cover of the tenth volume of the Manga, the only differences being that Kanzaki Nao wears a ring on her left middle finger, the entire image is flipped, and, of course, the title is changed to "Liar Game Invitation".
The first three pages contain the covers to volumes VII, VIII, and IX.
Round Summaries
Edit
The majority of the book is divided into sections for each of the four rounds and two revival rounds. Each section has a timeline of how things developed in each round, items used, where it was located, and hints on important concepts. At the end of each is a small section on the LGT Office.
Character Profiles
Edit
Each round summary has a section for the major characters introduced in that round. All characters are given names, ages, and occupations that are revisited in the sections. The largest sections are for the characters of Nao, Akiyama, Fukunaga, and Yokoya. These four are given ability charts, their personality, abilities, personal lives, relationships, and a collection of their lies.
Liar King Ranking
Edit
There are a few sections detailing how likely each character is to become the Liar King. Yokoya is #1, Akiyama #3, Fukunaga #4 and Nao #37. There is also a "Liar King Quiz" where you can find out how likely you would be to become Liar King if you were in the tournament. Each ranking for the results is given a character:
Akiyama - Rank A
Yokoya - Rank B
Fukunaga - Rank C
Akagi - Rank D
Kikuzawa - Rank E
Nao - Rank H
Finally, there are two interviews with Liar Game author Shinobu Kaitani, the first alongside One Piece author Eiichiro Oda, and the second by himself.
External Links
Edit